Sunday, I was supposed to go to Equatorial Hotel to be treated to Dim Sum but unfortunately the Dim Sum Restaurant got shut down. So Plan B was to go to Simply Fish but before we got there, we saw an ad of Kampachi Japanese Restaurant in the hotel. In the end that's where we ended up.
The restaurant is buffet style and there are
3 sections
. First is the hall where the main courses are, second was the teppanyaki section and the third is the sushi and sashimi section.
In the
first section
there's smoke salmon, japanese beef curry, udon, grilled salmon and mackerel, curry grilled squid, fried fish, unagi on tofu and chawanmushi(japanese steamed egg). There were many more but we did not manage to try all.
Now here's the best part, the
second section
teppanyaki and tempura section. They serve only 3 types of meat for the teppanyaki section which is salmon, tenggiri and chicken. The meat were fresh and succulent. The chef would pan fry it with shoyu sauce and butter to avoid the meat from drying up then garnish it with salt and pepper. Don't skip the tenggiri because its tastiness could almost beat the salmon although its a local type of fish. Not forgetting the tempura prawns and tempura vegetables. Simply splendid.
The
third section
is the sushi and sashimi and dessert. Here you can ask for raw scallops and salmon. Then there's the sushi; the Tako Shiokara is just great, it's seasoned baby octopus. Moving on to the dessert; the dessert section looks so colorful and appetizing. Chocolate cakes, puddings, pies, dragon fruits, honeydews, jellies are just among the few of the 'edible decoration'.
Here's a picture of a teppanyaki plate. It c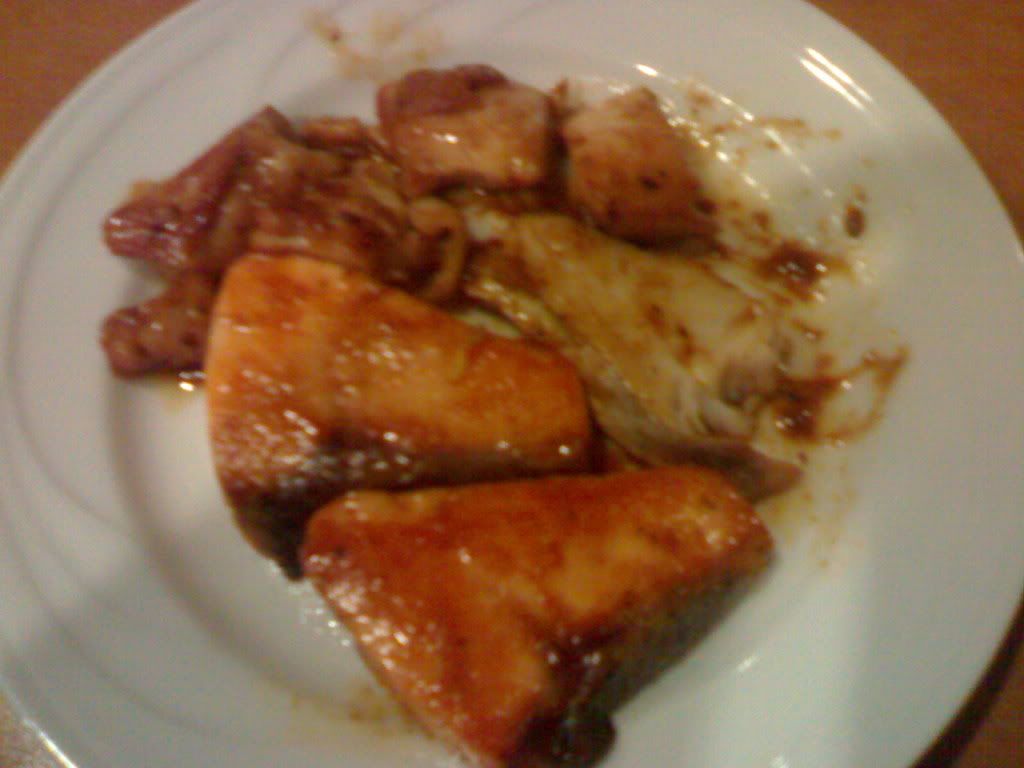 onsists of
tenggiri
,
salmon
and
chicken
all pan fried in shoyu sauce and butter.
P.S:
Here's the menu list from Equatorial Hotel Kampachi Restaurant
http://www.equatorial.com/live/mel/pdf/2008_hem_kampachi_menu.pdf